Hey friends! I was just on Rose's Blog and I saw this tag. It looked like so much fun to do so I decided to do it (she said anyone could do it). Also, I really enjoyed reading the post(s) she wrote. I hope you all will enjoy reading this!
So, I'm not sure how to explain this, but I will do my best.
Putting two characters together and saying they would make a great couple sounds like so much fun. That is what this tag is. Basically I am going to write down characters, make two piles, one with ten boy characters and one with ten girl characters, and draw one of each. Then I will say if I love the ship (aka Ship It), or not (Aka Rip it).
Everything clear? I hope so. Else you'll catch on as we go.
Ships
Fred Weasley (Harry Potter Series) and Mary Lenoxx (The Secret Garden)
This one is very interesting. I would never think to put Mary and Fred together. Fred is a jokester and Mary is not. Mary is solemn, Fred is not. They are very, very different characters, and I'm not sure that they really go together. I rip it.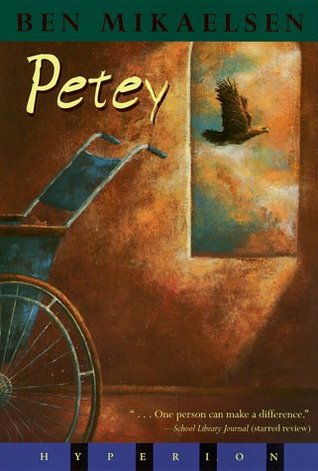 Trevor Ladd (Petey) and Cherry Ames (Cherry Ames Series)
Another very interesting ship. I don't know what to make of it. Honestly, I don't know the character Trevor very well. From what I do remember of him, he is caring and wants the best for Petey. He is not afraid of what people think of him. Cherry is a hardworking nurse. She is free-spirited and energetic. She is kind and caring. Cherry is also determined. I actually think they might be a good pair.
Now the problem is, they have an age gap. But, I am going to put the age differences aside. So…………I ship it!
Jim (Trixie Belden Series) and Bess Marvin (Nancy Drew Series)
Ok, the funny thing about this ship is that these characters are both from mysteries starring girls. But, the two characters I drew are not alike at all. Bess is cautious, sweet, sensible, and she has a thing for sweets. Jim, on the other hand, is stubborn, and kinda tough. Jim protects Trixie and Honey once or twice, and deep down he does care. This isn't really a good pair. I rip it.
James Trotter (James and the Giant Peach) and Abigail Lee (Ungifted)
This is a interesting pair. Again, I am having troubles remembering what James is like. If I remember correctly, James is sorta shy. He is also smart, and thinks practically. Abigail is very knowledgeable, she goes to the gifted school and wants to be able to get into the best college. On the outside she might seem tough, but way down deep she really does care. She is a rule-keeping smart student.
Like I said, this is an interesting pair. I am not sure that it works, but then, I don't really known. I have a feeling that Abigail would rule over James, but I feel like they might be friends. I don't think that they are really a pair. So, I rip it.
Auggie Pullman (Wonder) and Felicity Merriman (American Girl Doll Felicity Series)
I don't know what to make of this…Auggie is such as sweet boy. Felicity is free-willed, determined, and bold. She is daring, yet kind. Auggie is brave, even when he doesn't know it. Auggie knows how to stand up for himself.
In reality these are no pair. One, the are set in totally different eras. But if Felicity was in the same time period as Auggie… I think Felicity would remind me of Summer from Wonder. I say it's a ship! 
Joey Pigza (Joey Pigza Series) and Trixie Belden (Trixie Belden Series)
No, No, no. Why did I ever choose to have Joey Pigza as one of the characters?? They are no match. Trixie is a bold, daring girl, who often does stuff before she thinks. She is quick-witted, fast thinking. She is determined, too. Joey, well, he's Joey. Let's just say he's hyper. (You'll have to read the books to fully understand). I definitely rip it.
Donovan Curtis (Ungifted) and George Fayne (Nancy Drew Series)
Donovan is not gifted. While he doesn't do bad in school he is no where near gifted. He is a trouble maker, he does things without thinking, and the results are tragic…Need I say more? George is an athletic girl. She isn't careless, but she isn't always cautious like Bess. She cares about her cousin and friend, Nancy, deeply. George can sometimes be boy-ish, and is definitely not feminine.
Donovan and George are no match. I rip it.
George Weasley (Harry Potter Series) and Anne Shirley (Anne Of Green Gables)
Welp, this is interesting. George is a jokester like his brother. I don't know how else to explain him. Anne is…independent, strong-willed, daring, and well, she's Anne. For some reason I think they actually might be a good pair. Sure, they don't have a lot in common, but, I think that they would be great together. Maybe I am going crazy, but……I ship it!
Neville Longbottom (Harry Potter Series) and Winnie Perry (The Winnie Years)
Neville is shy, sweet, and sometimes cowardly. Winnie is awkward, sometimes funny, and well, she can be kind of shy herself. Other times, though, she isn't shy at all. It depends on…a lot of things. She also can be random.
I don't really know what to make of this. At first I was like, no way, now though that I am thinking about it, they might be a funny couple. Winnie would bring out something different in Neville. I just can't put my finger on it. I think I Ship it!
Noah Youkilis (Ungifted) and Nancy Drew (Nancy Drew series)
Hmmmmmm. Very interesting. Not what I would have thought of. Noah is very smart, but he wants to be normal. Nancy is a smart, quick thinking girl. She is a detective.
They do not go together. I rip it.
Nick Hall (Booked) and Elsie Dinsmore (The Elsie Series)
I can't give you much info about Nick, I don't even known why I chose him. All I can say is that he thinks he knows his future. He is a soccer player. Elsie is such a sweet girl. (You should read her books)
They definitely do not go together. I rip it.
So, that is it. The last one is disappointing. Total there is 7 rips and 3 ships. 
It's not the best. Maybe I will do the tag again a different time. Over all I had a lot of fun. It was more work than I had expected, but that is ok.
You can do this tag if you like! I recommend it to all book lovers. I learned that I have a tendency to pay more attention to female characters than male characters. That is ok, I will try to pay attention to male characters from now on.  *cue the music* *from now on, from now on, from now on…*
Also, could you tell me what types of posts you guys like to see? Or even tell me what things you like and I will do a post with that theme!
Well, that's all for now!
-Haley
PS. I think this is the longest post I have ever done! WoooHooo! <3<3 🙂